Intro
What I'm about to describe is not a recommended setup, but if like me you're dealing with legacy infrastructure, well, sometimes you just gotta make things work as they are.
So imagine on your Intranet you have a WebDAV server running HTTP, not HTTPS, and using Basic Authentication. And you want to work with the files on a Windows 7 workstation. Read on to see how we got this combination to play nice together.
The details
First I gave myself access to a WebDAV resource on the server.
Being a Unixy type of guy, I then tried a Linux command-line program. I chose cadaver. See the webdav.org site for other clients.
I had to compile and install cadaver but that was no problem. Here is my test session:
> cadaver http://iwwwd.drj.com/webdav.ear/
Authentication required for CORP LDAP webDAV on server `iwwwd.drj.com':
Username: drj
Password:
dav:/webdav.ear/> ls
Listing collection `/webdav.ear/': succeeded.
Coll: drJ Application.ear 0 Sep 17 2012
Coll: drj app Application.ear 0 Nov 30 2013
…
dav:/webdav.ear/>
So, in other words, it worked! cadaver is kind of nice because it puts you into a shell and has commands similar to FTP, so it is a (mostly) familiar environment.
Now why was my Windows 7 PC giving me such a hard time?
Windows 7 by default only allows for Basic authentication against HTTPS webDAV servers.
To enable Basic authentication on the client computer, follow these steps:
1) Click Start , type regedit in the Start Search box, and then click regedit.exe in the Programs list.
2) Locate and then click the following registry key: HKEY_LOCAL_MACHINE\SYSTEM\CurrentControlSet\Services\WebClient\Parameters
3) Double-click the BasicAuthLevel registry key.
4) In the Value data box, type 2, and then click OK.
5) Exit Registry Editor, and then restart the computer.
More info can be found in this Microsoft knowledge base article: http://support.microsoft.com/kb/841215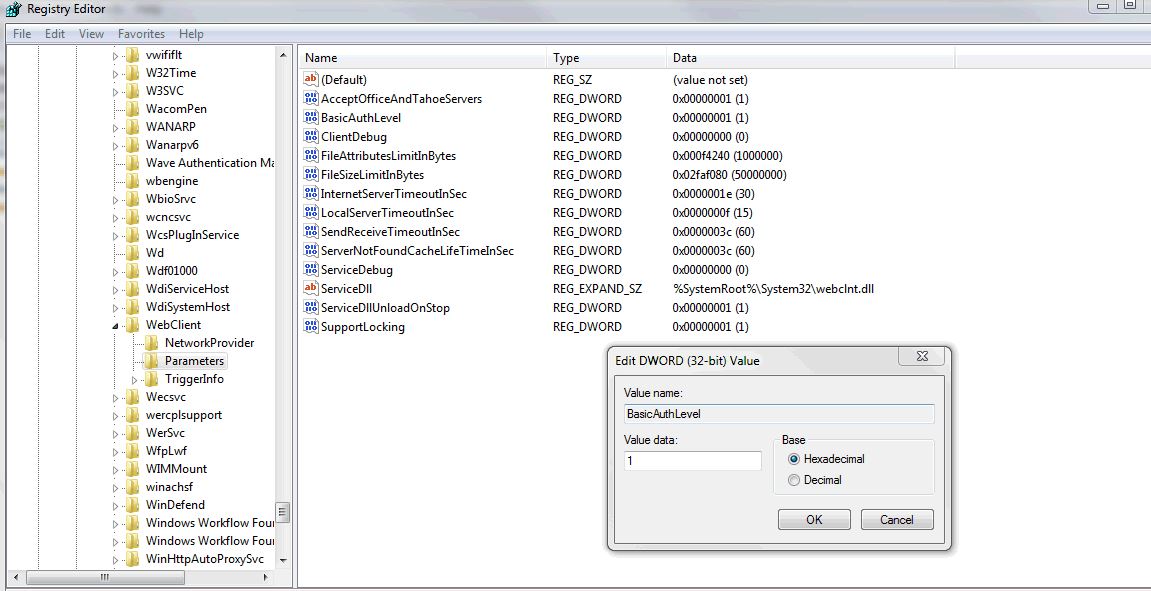 Conclusion
Though not recommended for security reasons, it's good to know there is a way to map a webdav drive when just HTTP (not HTTPS) is being used.