Intro
I was more than a little alarmed after an upgrade of my Dell Inspiron with built-in SD card reader failed to work properly after I upgraded from Windows 7 to Windows 10. After the upgrade I inserted an SD card into the reader and nothing happened in File Explorer! this led to some tense moments.
The details
Here's file Explorer after inserting the SD card:
The DVD drive is nowhere to be found and the same for SD card.
But if I right-click on This PC and select manage it looks like this: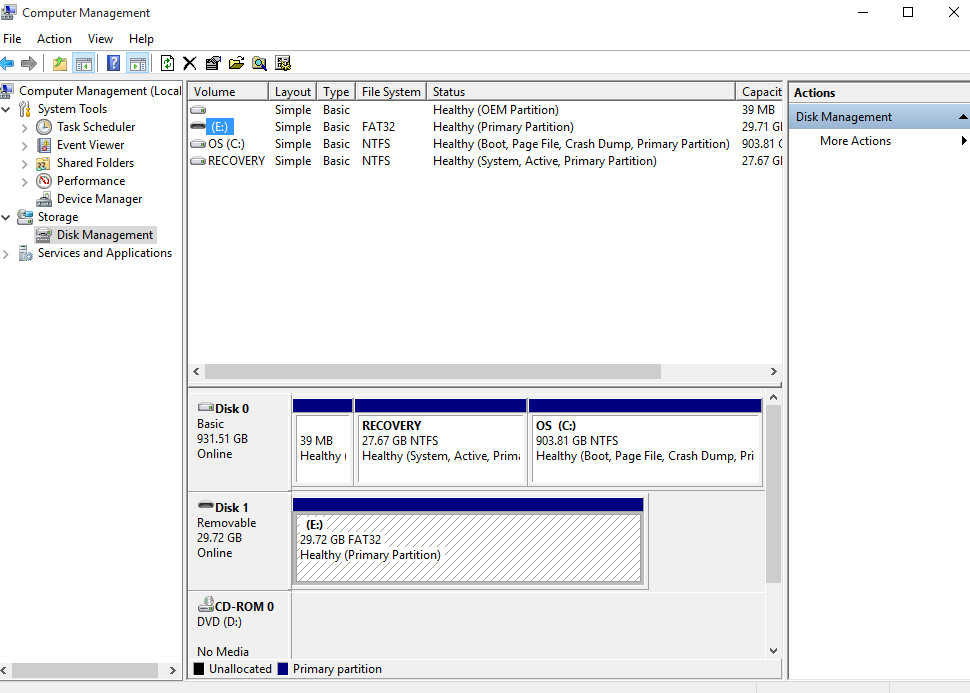 So that would make it seem that Disk 1 is removable media mapped to the E: drive and my DVD player is mapped to the D: drive. Interesting. So let's try this in File Explorer (known as Windows Explorer in previous version of Windows). Type
E:
in the field where it says Quick access. Sure enough it magically appears:
And I can do the normal File Explorer operations with it.
I think there is a more permanent fix but for me I have no problem typing e: the few times I need to read an SD card.
Oh, and the DVD drive? It was there all along. I see it when I highlight This PC:
Conclusion
If you don't see your SD card when running Windows 10 don't panic. It may be there alright. Type E: in the Quick Access field. Or maybe D: or F: – depends on your PC's configuration, which I've shown how to list above. I believe a more permanent fix involves re-installing or repairing a driver, but I haven't had time to look into it. My approach will get you working quickly in a pinch, like, say, when you have to get the photos off your camera's SD card because you need them right now.
References and related articles
This Microsoft Technet discussion was helpful to me. It was slow to load however.