Intro
Acurite seems to have a corner on the consumer low-end weather metrics market. I.e., rain gauges and similar. In the past I've bought multiple cheap plastic rain gauges of the Acurite brand. They are quite nice, and cheap. But exposed to freezing water they will develop leaks. And the plastic yellows after a year.
My wife gave me an electronic Acurite rain. The setup was simple and it was working fine. Then one rainy day I noticed there was nothing recorded. Why?
The details
Of course an obvious go-to is the batteries. But I have a battery tester and in this case they tested fine. So I took out the measuring unit and put it next to the recording unit. Still nothing. I took all batteries out. As the recording unit (the inside part of the gauge) was coming up, I noticed that it showed a signal strength going from zero to four bars, over-and-over, which to me indicated it was looking for and not finding a signal from the measuring (outdoor) unit.
What this said to me is the following: the problem was focused on the measuring unit. Likely it wasn't on for whatever reason.
At this point you could rightly object to point out that maybe the two units simply were on different wavelengths. But I had already taken care of that. I made sure they were both on A. so I feel I had adequately ruled that out.
I noticed the terminals in the measurer's battery compartment were dulled with crud. I've encountered this issue before on my home thermostat. My solution there was to add some wadded-up aluminum foil to the springy terminal. I did the same here; and voila, I began to get a steady four bars on the radio measurement strength!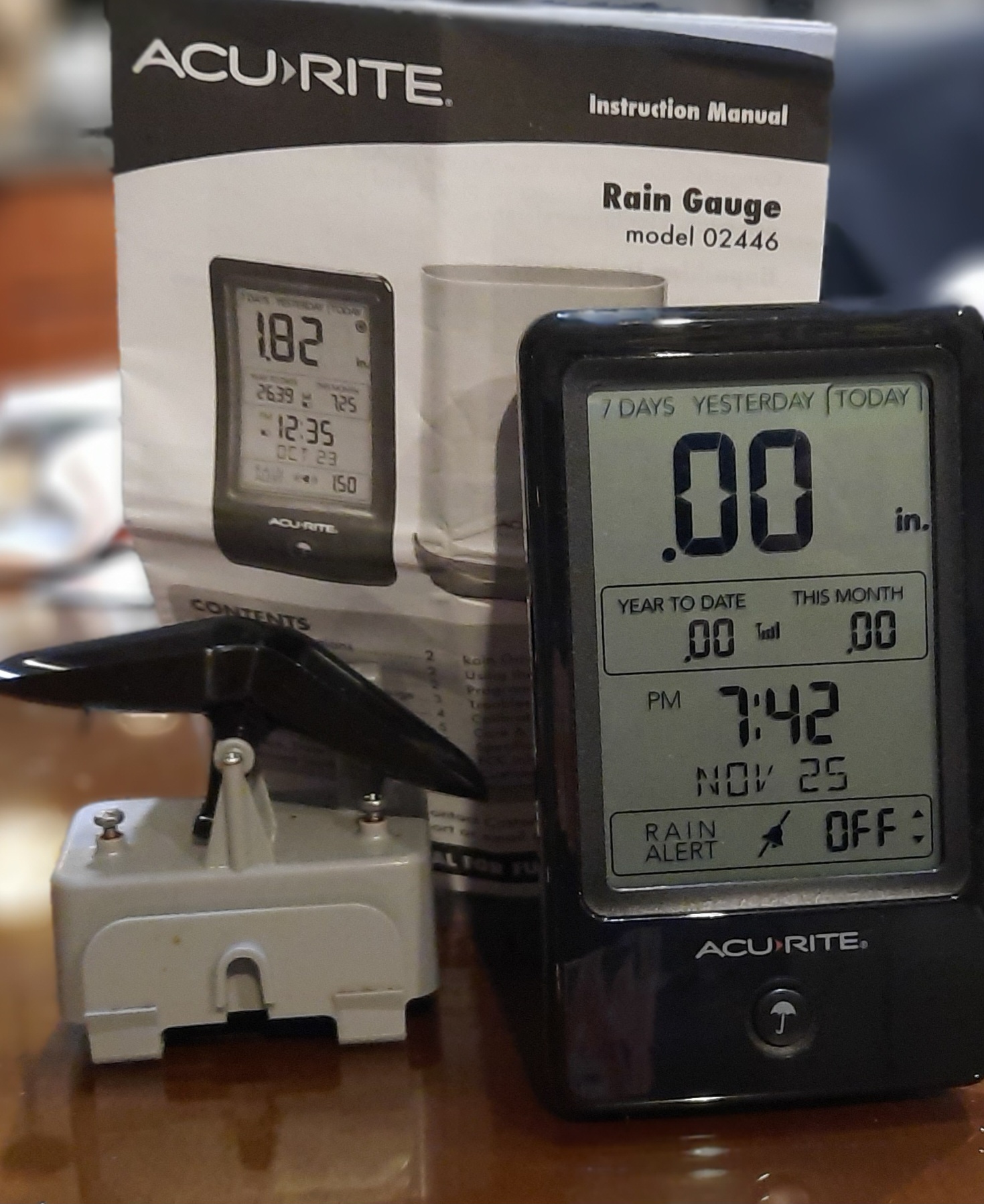 Conclusion
I fixed my Acurite rain gauge tonight and shared what I did in case someone else has this issue. It has lasted a year and a half so far. I hope to get a couple more years out of it!
I'm not sure where the crud comes from (the batteries are not leaking!) that eventually cuts off electric contact with the springy terminal (negative contact), but wadded-up aluminum covering it does the trick!